April 26, 2009
... Sharon Jones and the Dap Kings playing in my ear and washing the gunk out of my hair. Can't get enough of those Spa Days.
December 25, 2008
I am on vacation. This means no work until January 5th, official as of yesterday, December 24th, 2008. I plan on using this free time to do fuckall. I am not one of those people who feels guilty for not making good or productive use of her time. I think doing absolutely nothing takes special skill, and I am quite adept at it. Sleeping, eating, cracking open the bottles of wine given me as Xmas gifts.

Sounds divine.
I will most certainly remember to chop it up on the blog perhaps next year or during the course of me doing nada. And don't ask me about New Year's resolutions, because I don't make any. The committee of

Me, Myself, and I

has decided that making them are useless, as waiting once a year to stop acting like a piece of trash or aspire to great heights should be an on-going goal that happens everyday of one's life.
Keep it productive, I know I'm not going to.
xoxo

Coffey
October 06, 2008
I stayed home from work today. I haven't had one of those days in a while, seemingly. I figured it'd be a great day to wash my hair, do laundry, and gather together my belongings... to decompress. Fortunately, I'm mostly packed and boxed. Many of my things are in storage. I'm hoping things work out, because the act of packing and moving and then apartment hunting all over again, are a pain... as I've discovered in this current economic climate. Things are a lot more tenuous, people are more leery and stressed. I'm fortunate that I stumbled on a situation, that was specific to my needs and what I was looking for! A new couch, a new bed with frame and other incidentals loom in my immediate future. More things to ponder. Perhaps once I'm settled, I can revisit the wacky world of *gasp*

dating

! It has been a while, and I must say, the peace and quiet of not fretting over some douche has been quite nice. Of course I plan on treading carefully. With all the steaming piles of shit all over the place, I'd hate to step in anything, due to stomping around precariously.
Anyway, I'm not exactly sure why I posted this video, but it seemed like the right thing to do. I've always thought Rosie Perez was extremely talented, and pro-active in her activism. This video just drives that point on home.
January 27, 2008
Mica Paris, singing Porgy and Bess's Summertime
(one of my favorite songs as well as one of the better covers I've heard).
November 20, 2007
I'm OMing the pressure off of my chest... Whenever I breathe in, it's reminiscent of weight lifting a heavy barbell and the back of my shoulder pops with each deep breath I pull in.
December 01, 2006
"There's a quiet storm... And it never felt like this before... There's a quiet storm... That is you There's a quiet storm... And it never felt this hot before... Giving me something that's taboo... Sometimes i think you're just too good for me"
This evening finds me relaxing with a delectable glass of Shiraz, pasta on the horizon, and

Sade's Greatest Hits

serving as a soundtrack in the background. The spicy smelling smoke from the Gonesh incense sticks are hypnotic as they form fluid curlicues in the unseasonably humid air. It's raining heavily outside, with heavy gusts of warm wind. While I know this mild weather we've been experiencing here in the Northeast can be attributed to global warming, and man's harsh treatment of our environment, I can't say that I hate it, nor can I say that I'm looking forward to snow, sleet, or ice.
The sounds of the rain and passing cars gliding down the slick streets are quite soothing. Oddly enough, as I glanced out the window, I witnessed a cat sauntering across the rooftop just across the way. I wonder how she got up there. Somehow, I know it's a

she.

Looking further beyond, I saw a shadow coverin
g
a window a floor up, across the way... I wonder if this person sees how deliciously lucid I am.
This evening qualifies as one of the best solo dates I've ever had with myself.
September 26, 2006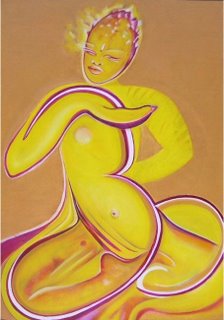 I feel new...
I feel revitalized...
I've pondered...
I've yelled aloud...
I inhaled...
I exhaled..
I shook my head with disdain...
I cried tears of frustration...
I cursed...
I shadow boxed 10 rounds, and flailed my arms like windmills, as if possessed by the goddesses...
I smiled.
I am smiling...
I'm laughing... Today I was lovingly pelted about the face and mouth by soft, mushy baby fists and truly experienced the joy of being free and unbridled.
The bodily aches and bubbly stomach have subsided. While the broodiness is still a fixture, thoughts of my right hand imprinted on the sides of waiting (and deserving) faces, have been replaced by my overwhelming feeling of wanderlust and whiffs of fresh Mediterranean air. My shoulders feel about 10 pounds lighter, and the glare has gotten a little steelier. Oh, yes... and I found my Id, and dragged that bitch back as she kicked and screamed the whole way. Now, I'm finally,
finally
primed and ready for battle, and I will be relentless towards those trying to impede my peace and pierce my center... Haters beware.
It wont work anymore.