Survival of the fittest and examining the tenuous relationship between Black women and white women
The Handmaid's Tale (which just wrapped up a roiling second season) isn't the only series currently streaming on Hulu dealing with the oppression of women and the disturbing, violent effects of patriarchy. Currently in the beginning stages of its second season, Harlots presents a fascinating story set in 1760s London, England about brothels and the bawds that run them, the lives (and heaving bosoms) of sex workers, the debaucheries and dangerous predilections of culls, and the machinations of the people at the top of the socio-economic ladder as well as those trying to navigate around their respective social positions at the bottom of it. Their sexploits and performances are often reviewed in an annual underground directory of sex workers called Harris's List of Covent Garden Ladies.
Like The Handmaid's Tale, Harlots—which is written, directed, and produced entirely by women—is also unlike any historical series currently being featured on TV. For a period-drama that takes place during London's 18th-century Georgian era, the cast is diverse, and the showrunners don't shy away from delving into issues of race, capitalism, class, consent, and gender.
"This city is made of our flesh, every beam, every brick. We'll have our piece of it."


To offer some insight into the show and the relationships between just a few of the characters, Harlots is about two feuding brothels, one run by Lydia Quigley (played by Lesley Manville) who runs a high-class house that caters to the noble, judicial, and extremely wealthy members of Georgian Society. Lydia Quigley (who shares a tumultuous history with her rival, Margaret Wells) has done some truly repugnant things to sate the desires of her elite clientele and so, knows all their darkest and ugliest secrets and isn't above using them to leverage opportunities for herself.
Margaret Wells (Samantha Morton), who was previously in Lydia's employ (sold to her by her mother, at the age of 10, for a pair of shoes) before they fell out on bad terms, runs a bawdy house on the lower-end of town that mostly caters to the working and middle classes and who's looking to improve her circumstances by opening a brothel in an upscale part of town in hopes of securing a more desirable list of clients. While Margaret is less skeevy than her former employer she is no less problematic and pimps her own daughters out, having sold her oldest daughter to a love-sick baron and her younger, inexperienced, and reluctant daughter's virginity to the highest bidder. Keeping with the time, Harlots' Black characters are at the lower end of the socio-economic spectrum of the class hierarchy but also have the most compelling story arcs on the series. William North (Danny Sapani) is a free Black British man and one of the more tolerable male characters. He is Margaret's partner in love and business and shares a young biracial son with her named Jacob, whom Margaret can't fathom ever being in a position of servitude to rich white people.
"By George, a Black Venus"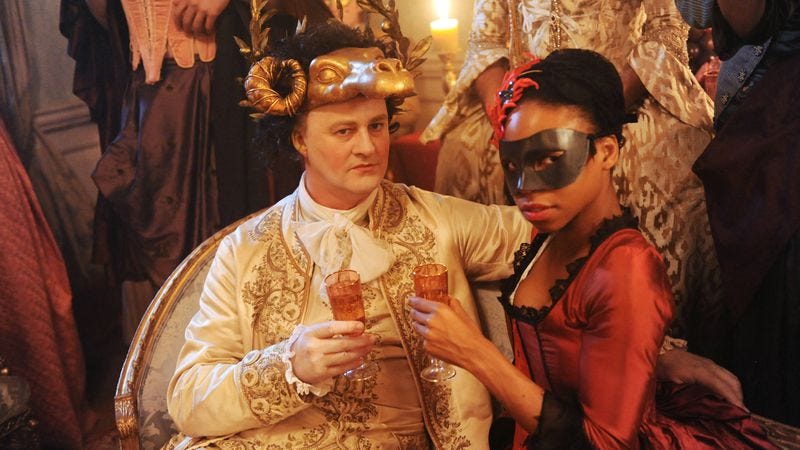 Harriet Lennox (played by Pippa Bennett-Warner) has one of the more intriguing stories on the show. Educated by her slave master, Nathaniel Lennox (who acts as her husband and is Margaret's former lover), and brought to London from his plantation in America, Harriet has two illegitimate biracial children with Nathaniel. Harriet first meets Margaret's acquaintance when she answers the door and Margaret—who's there to meet with Nathaniel to catch up and hopefully secure a loan to open a brothel in a more desirable part of town—greets her with, "Is your master in?" setting up the dynamic of their tense relationship. 
Insulted and aware of Margaret's place in Nathaniel's past, Harriet quickly establishes her role. "I am the mistress of this house," she says defiantly.


Even though she is in an established interracial relationship herself that was cultivated under different circumstances, Margaret is taken aback and presses, "I must have the wrong door. I'm looking for Nathaniel Lennox."

"Mr. Lennox is my husband," Harriet challenges.


Harriet later warms-up a bit after Margaret points out their shared roles as mothers to biracial children when she notices Harriet's in the room, "Lovely children you have. I have a boy just like."
Nathaniel dies shortly after returning to London, however. And as was par for the course for white slave masters, passes away never having completed the paperwork to legally free Harriet, making her and their children the property of Nathaniel's douchebag older son by his first legal white wife.
After Harriet is put out onto the street without her children (who are under the threat of being sold into slavery in America), Margaret offers her a job at the brothel to help Harriet earn money to buy her children back, first as a housekeeper then, eventually, as a prostitute making her debut during Margaret's much buzzed about bacchanalian social. To stand out and make fast money, Harriet quickly brands herself as an exotic other and ends up becoming a popular and oft-requested favorite among Margaret's customers. But the underlying tension between the two women still seems like a powder keg waiting to explode due to the power dynamics of their relationship. Despite Margaret's own class status and liberal views, she still exerts authority over Harriet and sets up a dynamic where Harriet is enacting labor for her.


Harriet and Margaret's relationship stands out to me because, though she was initially repulsed by the idea, Harriet uses sex work to not only survive and win back her children but to seemingly empower herself and to take back whatever semblance of bodily autonomy she can as a formerly enslaved Black woman consenting to sex. 
William—having been born a free Black man in London—and Harriet develop somewhat of an understanding with one another…their experiences as two Black people and his empathy for Harriet's predicament. William helps her fight for her children against Margaret's wishes. It becomes a point of contention in his and Margaret's relationship and Margaret starts to resent Harriet.